XD52 Ultrasonic PD Detector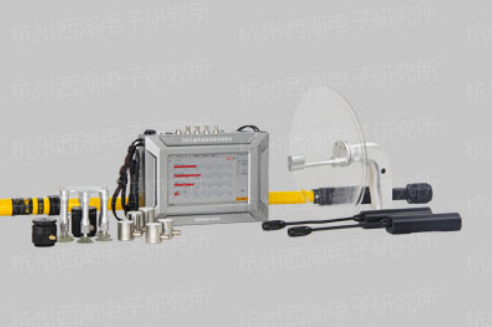 XD52 Ultrasonic PD Detector
Detecting and localizing partial discharge (PD) activities through sensing acoustic (ultrasonic, AE) signals emitted from PD activities. Typical applications are for GISs, transformers, switchgears, and cables.
Complying Standards:
• IEC 62478/TS/Ed1 High voltage test techniques-Measurement of partial discharges by electromagnetic and acoustic methods.
• DL/T* 1250-2013 Application guidelines for charged gas-insulated metal-enclosure switchgear device partial discharge detection with ultrasonic method.
• DL/T 1416-2015 General technical specifications for ultrasonic based partial discharge tester.
• Q/GDW** 11063-2013 Technical specification for ultrasonic partial discharge detector.
• *DL/T stands for "Recommended standards of electric power industry of China".
• **Q/GDW stands for "Corporation standard of State Grid Corporation of China".
Features:
•
Industry-leading sensitivity:
Sensitivity equal to or better than 10pC.
•
Robust to interferences:Complete suite of interference reducing technologies: Spectrum analysis, frequency-selective filtering, interference separation, and comprehensive shielding.
•
Diagnosis and analysis:Full range of analysis assisting graphical interfaces: PR, PRPD, PRPS, Correlation, and Selecting/masking windowing.Built-in interference and discharge patterns for automated signal classification.
•
Accurate localization:3D modeling technology ensures a higher localization accuracy.
•
Synchronization:Wired or wireless synchronization.
•
Sensor variety:We carry AE sensors of various frequency bands made by PAC for different test objects.
•
Rigid sensors:Specifically designed sensor protectors can protect the sensors from being damaged.
•
Easy operation:The lightweight and compact hand-held device can also be used with lanyard or tripod.Sensors can be mounted in different ways: magnets, suction cups, and straps.For hard-to-reach positions and in-service surveying operations, we provide insulated rods, sensor extension rods, and disk antennas for convenient and quick operations.
•
Long battery life:Each removable lithium battery provides more than 8 hours of continuous working time.
•
Designed for field use:The touch screen display is readable even under direct sunlight, suitable for field use.
Technical Specifications:
• Sensitivity: ≤10pC;
• Measuring frequency band: 10 ~ 300kHz;
• Sampling resolution: 16Bit;
• Sampling rate: 10MS/s;
• Gain: 0 ~ 60dB;
• Dynamic range: ≥60dB;
• Synchronization: Mode: wired or wireless; Frequency: 30 ~ 300Hz, Voltage: AC10 ~ 380V;
Accuracy: 0.01°; Wireless range: ≥75m (82yd);
• Measuring stability: ≤±5%;
• Linearity error: ≤±10%;
• Battery: Lithium battery 24V/5Ah
• Dimension: 236*177*53mm (9.3*7.0*2.0in);
• Weight: ≤1.5kg (3.3lb).

Product Models:
| | | |
| --- | --- | --- |
| Model | Name | Typical application |
| XD5202S | Ultrasonic PD detector for solid medium | Solid medium |
| XD5202L | Ultrasonic PD detector for liquid medium | Liquid medium |
| XD5202A | Ultrasonic PD detector for gas medium | Gas medium |
| XD5202*** | Ultrasonic PD detector for various medium | Various |
Pictures:
| | | |
| --- | --- | --- |
| Collector | Insulation test rod | Signal amplifier |
| Ultrasonic testing of switchgears cabinets | Ultrasonic testing of cables | Ultrasonic testing of bushings |
| Coherence graph | Dynamic accumulative graph | Certification report |
Update Required
To play the media you will need to either update your browser to a recent version or update your
Flash plugin
.