XD71 Automatic Detection Device for Power Transformer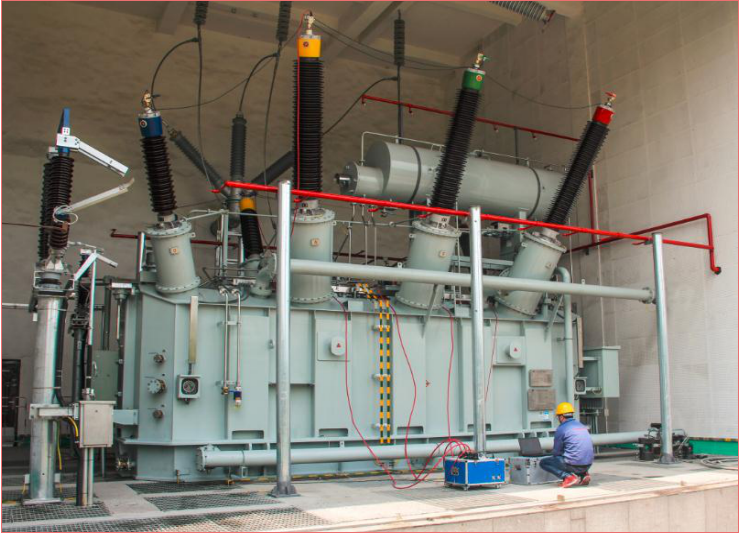 XD71 Automatic Detection Device for Power Transformer
The device is used for power transformer power outage routine test items to do automated testing.Which is characterized by dielectric loss, insulation resistance, DC resistance, tap-changer switching characteristics, short circuit impedance and variable ratio of six test items are concentrated in an instrument,so that the instrument function, test power and test lead height fusion.Field test, just start wiring once, at the end of unplugging wiring once,the middle process by the test personnel in the computer terminal to send command control,the test system automatically completes all or part of the above test items.
Test items
Insulation resistance:all winding insulation resistance,all the tap of transformer bushing to earth insulation resistance.
Dielectric loss:all the winding dielectric loss and capacitance,all the casing dielectric loss and capacitance.
DC resistance:all Winding DC Resistance.
Load switch:transition resistance, switching time, switching waveform.
Short circuit impedance :all winding short-circuit impedance, short-circuit reactance and leakage inductance.
Variable ratio:the voltage ratio of all the taps of the windings, and the group of transformers.

Features
High efficiency: wiring once, a key operation, the main transformer test automatically.
High integration: test line and fixture highly integrated, clean and orderly on-site.
High reliability:high product design reliability, failure rate of less than 1 ‰.
High accuracy: the overall accuracy is higher than the individual instrument.
High safety: all accessible high pressure parts are isolated with insulating material.
Strong adaptability: built a variety of testing programs to adapt to various types of main transformer specifications.
Strong ability to analyze: built-in database software automatically determine the equipment status.
Easy calibration: compatible with current laboratory calibration methods.
Product number
| | | |
| --- | --- | --- |
| numeber | test items | Feature description |
| XD7104 | insulation resistance、dielectric loss、DC resistance、load switch | Single instrument, one-time wiring, one-button operation, complete all monitoring items automatically. High accuracy and reliability. |
| XD7104+ | insulation resistance、dielectric loss、DC resistance、load switch、short circuit impedance、variable ratio | On the basis of XD7104, add a separate module. The instrument can be split freely and used flexibly. During the field test, carry the module according to the actual test requirements. For routine power failure pre-tests, you only need the XD7104 module. If it is a handover test such as overhaul, you do not need to change the test wiring and directly splice additional modules. |

Picture example
| | | |
| --- | --- | --- |
| Main clamp bushing | Main clip with tap and short circuit function | Double shielded fully insulated mounting connector |
| Double shielded final screen hub | Wiring is neat and orderly | Authoritative Center Test Report |
Update Required
To play the media you will need to either update your browser to a recent version or update your
Flash plugin
.